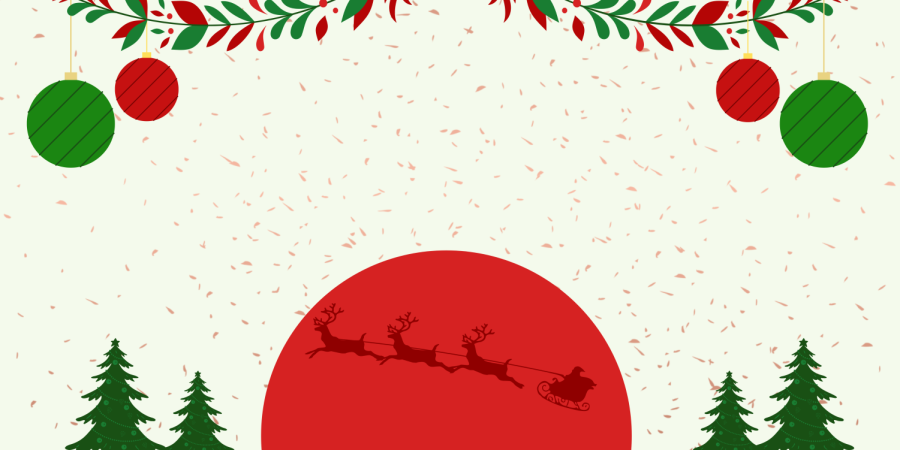 Boxing Day, Popeyes, and Christmas Surprises
Elkins High Faculty Share Holiday Traditions and Memories
December 16, 2022
During the winter season, billions of people worldwide engage in Christmas activities. Almost everybody has at least one unique tradition that they, or a family member hold close to their heart.
Recently, teachers shared fond memories and traditions that they withhold within their households.
Christmas in the United Kingdom
Mr. Mcgill, a P.E. and Health Teacher, used to live in England. He stated that many of the traditions and customs are the same, but many are unique to Europe.
"Boxing Day" is one of the first things that came to mind. It occurs the day after Christmas. Historically, servants, tradespeople, and those of the lower class would usually be presented with presents. The holiday is celebrated before Christmas day because people often go to church. However, in the modern day, the festivity is correlated with shopping, soccer games, and other sporting events.
During the Christmas season, Mr. Mcgill also mentions pantomimes. Pantomimes are "a type of musical comedy stage production designed for family entertainment". Mcgill said that they "really get the crowd involved". They're often based upon or inspired by popular children's stories, such as Peter Pan, Cinderella, and Goldilocks.
Dating back to Victorian times, guests at the dinner table would receive a Christmas "cracker"—a cardboard paper tube wrapped in shiny paper with twists at each end. Christmas crackers get their name from the sound they make when both sides are pulled.
Inside the cracker, there's often a paper crown or a slip of paper with a joke of some form written on it; the same jokes have been appearing on Christmas crackers for decades!
In school, a common tradition for elementary-aged students is the rehearsal of the nativity play. Not unheard of in America, but more common in the U.K. Students also get a longer winter break than we do here.
On Christmas day, a prerecorded message from the current person of reign in the U.K. (this year's will be from Charles III) airs through radio, television, and can be accessed through the internet. This yearly tradition started in 1932 when King George gave a speech over a radio broadcast. The Monarch's message usually entails the year's remarkable events, milestones, and their own feelings about the Christmas season.
"Christmas markets are huge, every city has a Christmas market". Mr. Mcgill acknowledges that we have Christmas markets here, but states that they're a whole other scene in England. With some differences in tradition, Christmas is best spent with whoever and wherever makes us happy.
Christmas in Baghdad
Mr. Patrick, who spent some time in Iraq, shared a funny Christmas story. "We were in Baghdad Iraq last year for Christmas, and on Christmas eve, The Command Sergeant Major (CSM) broke his tooth. So we had to drive him across Baghdad, to the hospital, so that he could get his tooth fixed. There was a Popeyes in the city", he explained, "we stopped and got Popeyes chicken for Christmas dinner." It might not have been the status quo to have Popeyes for Christmas dinner, but their journey across Baghdad was a Christmas to remember.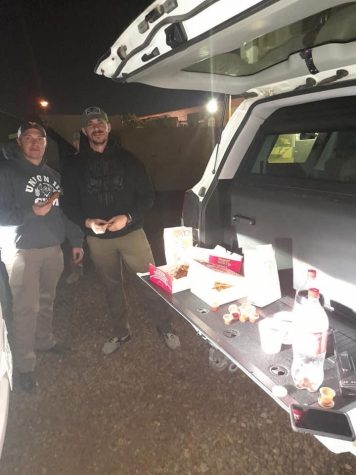 Keeping Surprises Alive
Elkins High's principal, Mrs. Lambert, shared a funny Christmas story as well. "On Christmas Eve, we would always put out a present from the reindeer for my daughter, Maddie. Well, one year, we forgot to put it out. So we quickly had to distract her so we could put the present out without her noticing. When she came back into the room, she looked out the window and shouted Thank you Santa!"
Christmas Care Packages
Mr. Shaffer, a math teacher at Elkins High reminisced over the care packages his uncle would send during the Christmas season. "There was always a wild card in them, something unexpected, like sardines or oyster crackers. They would come wrapped in duct tape and we knew that they were from him." One year, something even more unexpected arrived. "He sent us octopus. The family gathered around and each tried some, we chewed and chewed, waiting for somebody to spit theirs out first, I'm pretty sure that was me."'
No matter how you spend Christmas, or where, the season gives us opportunities to work on ourselves as people and lend a helping hand to others.