Elkins High Faculty Reflect on Halloween Traditions
Halloween is right around the corner, and with any holiday, comes some great stories and sentimental traditions. Elkins and Elkins High School are tightly knit communities whose culture often involves the passing down stories and practices that define generations ahead. However, these traditions have been modernized and even new ones have been created.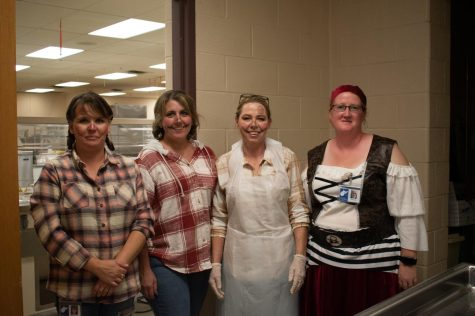 Mrs. Parlock, a teacher at Elkins High School, shares some of her fond memories of the Halloween season during her childhood. "My birthday is really close to Halloween", she says, "so as a kid all my birthday parties were costume parties". Now, with her own kids, she shares that because of the more remote location in which they live, many of her trick-or-treating memories are different from her children's. Trunk-or-treating has become a prevalent form of candy collecting for West Virginians and people all over the globe who live in more interspersed neighborhoods. She shares that they continue to practice another widespread tradition of Halloween–pumpkin carving!
Pumpkin carving is very important to West Virginians, as many parts of our culture range from actually growing the pumpkins and places such as The Pumpkin House. The Pumpkin House is an annual event in Kenova, West Virginia. A number of people get together and hand-carve 3,000 pumpkins and display them all on the yard and porch of the house.
Another teacher, Mrs. Brosky, shares that "on Halloween, my mom and would always take me and my sister trick-or-treating. We always had so much fun and we always got lots of candy. On the Sunday closest to Halloween our church would always have the best Halloween party, along with a costume party. When we carve pumpkins, I always feel sick from all the goo. Halloween was always fun for me because we didn't have much stuff to worry about and we just kinda ran free."
No matter how you celebrate Halloween, in Elkins, there's always events and people who want to spend the holiday with each other.
View Comments (1)