Lifetime Fitness Class Visits Blackwater Falls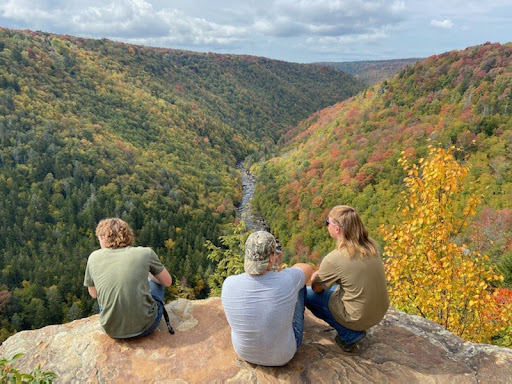 Mr. Cutright's Lifetime Fitness class at Elkins High School recently took a trip down to Blackwater Falls where students were able to explore and see all of the great things that the Falls have to offer.
Devin Petrice, a student who went on the trip, says, "We walked the trails and hiked the whole day, which was pretty fun."
There are about 20 miles of hiking trails in Blackwater Falls, and while students didn't walk all 20, they were still able to see some great sights along the way.
Petrice says, "We were able to see the waterfall and the mountains, which was pretty cool. I got some great pictures."
After a long day of hiking, students even got some time to themselves to have some fun of their own.
Petrice went on to say, "After we had hiked for a while, there was this basketball court, I guess it was part of a park at the Falls. We were able to play on it for a while before leaving. That was a lot of fun."
Jaydon Shreve, another student who went on the trip, had great things to say just as Petrice did.
"If I'm being honest, the only reason I wanted to go on this trip was to get out of school, but it actually ended up being a lot of fun," Shreve says, "I really enjoyed hiking and getting to be with my friends, I'm glad I went."
The Falls served as a great getaway for the students, and seemed to have been enjoyed by all who participated. The students encourage others to participate in other trips, such as this one, in the future.
Leave a Comment