Wrestling Pins Competition at Big Ten Conference Championship
Sophomore Wins Regional Title
On February 4 and 5 at the Big 10 Conference Tournament, the Elkins High School Wrestling Team placed seventh overall and brought home a new record. The "Big 10" is a wrestling tournament where 12 teams total compete in matches against one another. Gavin B., sophomore, was the first-ever wrestler from Elkins to place first in the tournament, winning in one of his matches with a shoulder pin.
Sophomore Caden R. placed fifth in the 106-pound weight class, Junior Javier R. placed first runner-up in the 160-pound weight class, and Nicholas B. placed third in the 195-pound weight class.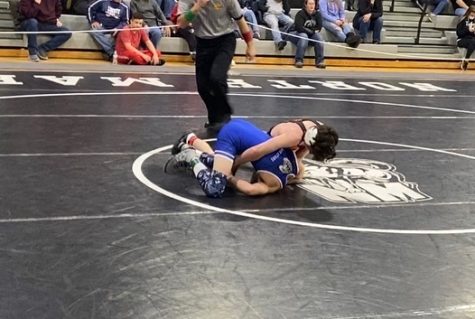 As a team, they placed seventh overall, while also placing first in the most points per wrestler, most finalists per wrestler, and teams under 50% roster categories.
"I'm honored to be the first Big 10 champ in school history, however, our work isn't over yet; we still have regions and states. I'm ecstatic to see a new era of wrestling in our school starting with our amazing performance in the conference all around. Sending and placing your whole team is a huge accomplishment for any team, especially one without a coach.", Gavin B. says.
Leave a Comment