EHS Swim Team Competes at Regionals
Freshman Sets Meet Record, Six Relays Teams and Twelve Individuals Qualify for State Meet
The Elkins High School Swim Team made their way to The Bridge Sports Complex in Bridgeport this past Saturday to compete in the Region III Swim Meet. The Elkins Tigers will be moving on to states in six relays and twelve open events. Both Girls and Boys teams placed 3rd overall out of 14 teams.
Many members of the Elkins High Swim team put up placements that achieved automatic qualification for the States meet. Isabelle, for example, placed 3rd in both the 100 Breaststroke with a time of 1:16.41, and the 200 individual medley (IM) with a time of 2:30.72. Rachel placed with a time of 1:00.31 in the 100 Free, and will also be going to states in the 200 freestyle. Luke placed 2nd at 58:68 in the 100 Butterfly. The boys 200 medley relay team [Braxton, Isaac, Luke, and Charlie] swam a 1:50.80, taking 2nd place.
Isaac impressively set a meet record, winning in the 100 breast with a time of 1:00.47. He also took 2nd in the 50 free at 22.44 seconds.
Others going to states include Joslyn in the 200 IM, and 100 butterfly, Kaleigh in the 100 butterfly, Ruby in the 500 Freestyle, Braelynn in the 100 backstroke, the Girls 200 freestyle Relay, The girls medley relay, and the girls 400 freestyle relay. On the boys side, Izaak will be moving forward in the 200 IM, Braxton in the 100 butterfly, Charlie in the 500 Freestyle, the boys 200 and 400 freestyle relays will also be progressing to states.
Mr. Blake, Assistant Swim Coach at Elkins High School is very pleased with the group that is making it to states this year, saying that all but a few swims put up best times for the season. "Izaak came through in the IM and swam probably the best race that I've ever seen him swim– and because of that some of our boys relays put up some really good times: because Izaak really showed up to swim."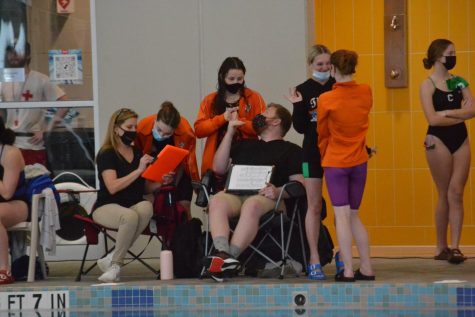 Blake also gave head nods to the girl qualifiers, especially Rachel who has not been able to swim competitively recently, and had a great comeback.
Blake goes on to explain his hope as the end of the season approaches. "We have a big graduating class this year, so next year we're going to be a very young team." – "My younger swimmers have stepped up to make that really really scary moment next year, when we've graduated a huge senior class that is a little bit less impactful. We've got a big group of kids ready to step up to fill some big shoes."
Leave a Comment